A Day of Pure Joy! Area Five Special Olympics Horse Show at Spirit Horse Center
By Staci Grattan
July 19th, 2014 Spirit Horse Center was the home for the Area Five Special Olympics Horse Show for the third year in a row. Hosted by Mounted Eagles Therapeutic Horsemanship, the show encompassed three area teams, 37 brave and hard working riders, 11 incredible horses and a horde of devoted friends, family and volunteers.
The athletes competed in traditional style horse show classes such as Halter, Trail and Western and English Equitation.
The three teams:
Jack Pine Stables – Walker, Minnesota.
Director Kristine Oppegard – Retired Registered Nurse with a heart of gold!
Jack Pine Stables is a seasonally run PATH International Certified Program. PATH (formerly NARHA) is an acronym for Professional Association of Therapeutic Horsemanship International.
Jack Pine offers weekly sessions May to September to 43 participants who work on horsemanship skills with their eight wonderful program horses.
Find Jack Pine Stables on Facebook for more information about their program.
Milaca Community Rockin Riders – Milaca, Minnesota
Head of Delegation – Kathy Fitschen
Milaca Community Rockin Riders is a Special Olympics Team supported by Milaca Community Education and hosted at the Kostanshek Family Farm. Ann Sheehan is the owner of the three program horses who faithfully and gently assist the seven team members to realize their equine goals.
The program has a fundraiser in September "A Special Event" to raise funds for the team.
Mounted Eagles Special Olympics Team – Brainerd, Minnesota
Mounted Eagles Therapeutic Horsemanship Eexcutive Director – Lynn Fairbanks.
Head Coach/Mounted Eagles Program Founder/Lead PATH Instructor – Susie Bailiff
Mounted Eagles Special Olympics Team is comprised of 7 current and former Mounted Eagles Therapeutic Horsemanship participants. The Special Olympics team for Mounted Eagles has been in existence for three years, however Mounted Eagles Therapeutic Horsemanship recently celebrated 20 years of service! Mounted Eagles is a PATH International Certified Program with nearly 70 current participants. The Special Olympics Team is sponsored by Spirit Horse Center and Grattan Home Health Care Inc. Mounted Eagles is a 501c3 Non Profit Organization largely supported by fundraisers such as their upcoming "Walk and Roll So They Can Ride" September 6th on the Paul Bunyan Trail in Nisswa Minnesota, "A Night With The Stars" at Arrowwood Lodge in Baxter Minnesota September 20th  or " Hoofin for Mounted Eagles" a benefit trail ride and campfire September 27 or 28 at Trailing S Farm west of Pequot Lakes, Mn
Mounted Eagles has seven dedicated hard working and patient equine partners who assist not only the Special Olympics Team but also their regular program participants to reach their equine dreams and goals. Mounted Eagles operates year round 3 days per week at Spirit Horse Center in Brainerd.
http://www.mountedeagles.org
As the facility owner of Spirit Horse Center, I have been the host for many shows, clinics and events in the six years we have been open. The Special Olympics Equestrians and their horse partners have always been the most inspiring to me. The bravery, enthusiasm and delight shown by the participants and the incredible care and patience the horses provide is truly humbling. The partnership and encouragement displayed between fellow athletes and the horses and riders is heart warming.
I was struck by the valor of the participants and the loving assistance from their equine partners such as Athlete Ashley and Parfait a program horse from Jack Pine Stables. When it was their turn to present for halter class, Ashley and Parfait came into the arena fondly ushered in by the coaches (who are not allowed to assist once the athlete enters the ring) – Ashley was clearly nervous and afraid, asking "can you walk with me? I'm so nervous and scared" – Parfait slowed her steps and lowered her head as a Volunteer Judge smiled and stepped up saying "sure we can walk together – you're doing great!" Ashley courageously completed her halter presentation, working hard to follow instructions from the Judge. As Parfait and Ashley exited the arena Ashley's face lit up in a beautiful smile as she said, "We did it!" to her friend Parfait.
Ashley's coach Kris later confided that Ashley's life has not been easy. She is a ward of the state and has no family involvement. As a developmentally delayed adult living in a group home, this program is an important self esteem builder and source of joy for Ashley.
I was equally struck by the zest and vigor for life displayed by many of the athletes such as Hanna from Mounted Eagles. Hanna is a 22 year old developmentally delayed young woman with a twinkle in her eye and a total enthusiasm for life. Hanna's elation was tangible as she rode her horse Mahler in several classes. Each time Hanna received her ribbons on the podium she celebrated by high fiving her competitors and raising a fist in the air. This joyful exhibition made me smile several times. She was happy and proud and she wanted everyone to experience that!
Photo – Hanna and Mahler
Throughout the day I saw many demonstrations of teamwork and enjoyment; happy dances, grins, fist bumps, high fives and horse hugs to name a few. These beautiful, honest and pure displays of the best kind of emotion we can experience left me feeling motivated to find more opportunities to express joy and love without reservation.
Really at the end of the day isn't that all that matters?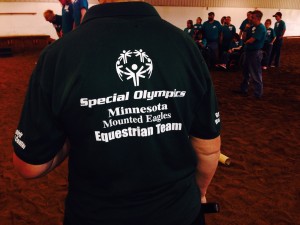 Staci Grattan and her husband Brion Fornshell Co-Own Spirit Horse Center in Brainerd, Minnesota. Staci enjoys using her focus on good solid horsemanship basics, true classical dressage and natural holistic horsemanship to assist horses and humans.  Spirit Horse Center is located in North Central Minnesota and provides, boarding, training, lessons and regularly hosts clinics and events benefitting horse owners and horses.
For more information on go to http://www.spirithorsecenterinc.com